Welcome!
Looking for promotional products?
YOU'VE COME TO THE RIGHT SITE. WE ARE PROMOTIONAL
PRODUCTS EXPERTS WHO ARE COMMITTED TO YOUR SUCCESS.
AD SPECIALTIES * BUSINESS GIFTS
RECOGNITION AWARDS *WEARABLE APPAREL
Imprint Products works hard to help you brand yourself or your company with imprinted promotional products that can help you get noticed!

Based in Baltimore, Maryland since 1984, Imprint Products strives to bring the best products for their clients at the best prices, using only the highest quality materials and craftsmanship. You can place your company name on pens, offer branded cellphone accessories, stamp your logo on mugs and much more. It doesn't matter if you are looking for something specific or just exploring for new ways to market your business – Imprint Products is a one-stop shop for all your branded products and apparel needs.

Items with your logo or company name make great gifts for repeat customers or guests to your trade show or business fair booth. Tote bags, T-shirts and can holders are all great options that everyone can use, and with your brand emblazoned prominently, you're sure to make a lasting impression with your clients. Whatever your needs, Imprint Products has you covered.

Take a look through their great inventory of products and accessories for your marketing campaign, or contact them today for more information custom orders or specialty product designs.


Featured Item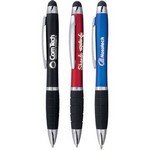 Eclaire™ Stylus Pen
A state of the art laser engraved imprint makes your logo stand out whether the pen is illuminated or not. Your logo lights up with a press of the stylus and features a twist rubber grip for pen. An e...
$1.76 - $2.00
Signature Showrooms